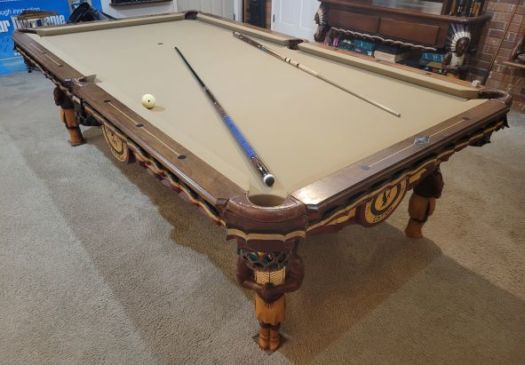 8.5' PETER VITALIE COULIJA
#04 of 100 made, this magnificent piece of engineering may be one of only a handful left.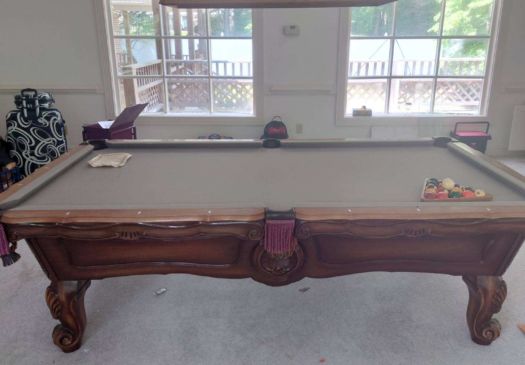 8′ OLHAUSEN NEW ORLEANS
The 8′ Olhausen New Orleans is manufactured in San Diego CA, and has a solid eastern maple design with an old world finish.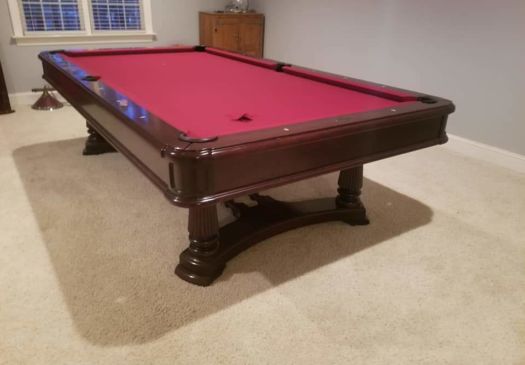 8′ BRUNSWICK MONTEBELLO
The 8′ Brunswick Montebello design is inspired by English and Continental influences from the 16th and 19th centuries.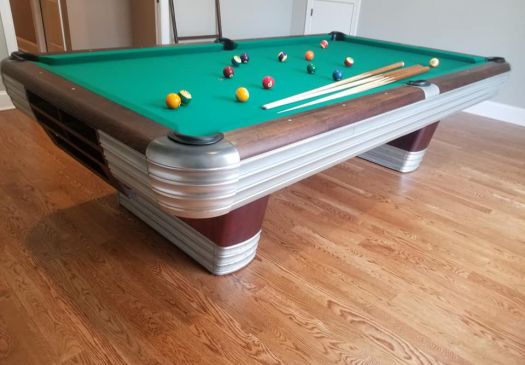 9′ BRUNSWICK BALKE COLLENDAR CENTENNIAL
This Antique Centennial Pool Table draws back the curtain on opportunity unequalled in the history of the billiard business.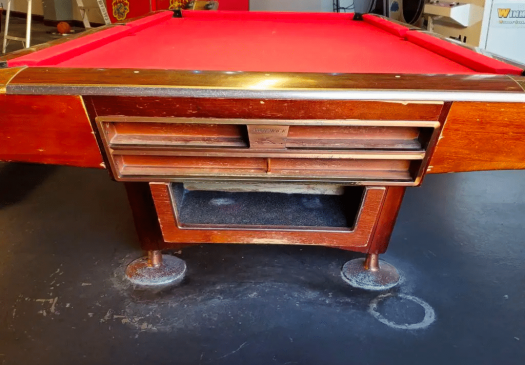 8.5′ BRUNSWICK GOLD CROWN IV
The Brunswick Gold Crown IV is one of the most well built tables on the planet. A Tournament table of its time.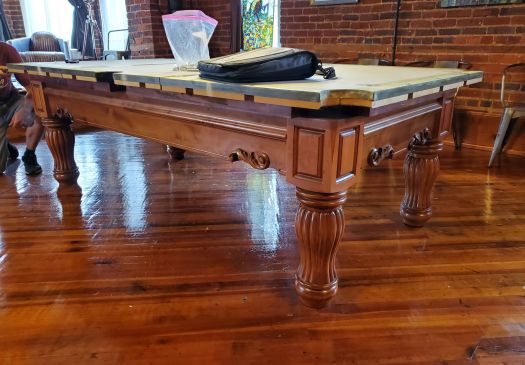 8′ BRUNSWICK DOMINION
The Dominion is solid hardwood, from the top rails to the bottom of the leg.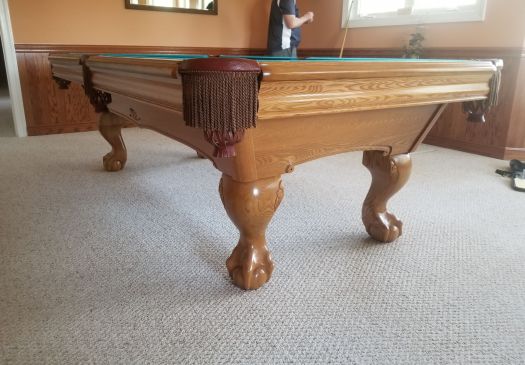 8′ BRUNSWICK CAMDEN
Enjoy the refinement of traditional styling. Available in a wide range of finishes, including popular Old World Cherry, two pocket options, and several transforming leg options, this table will blend with any home décor.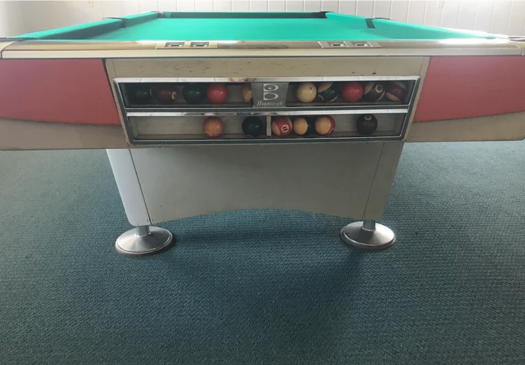 BRUNSWICK GOLD CROWN I
The first of the Gold Crown Line, the Gold Crown 1 was manufactured in 1961 and continued to be the tournament standard well into the 1970's. This iconic line of tables has continued on to today's modern version (Gold Crown 6)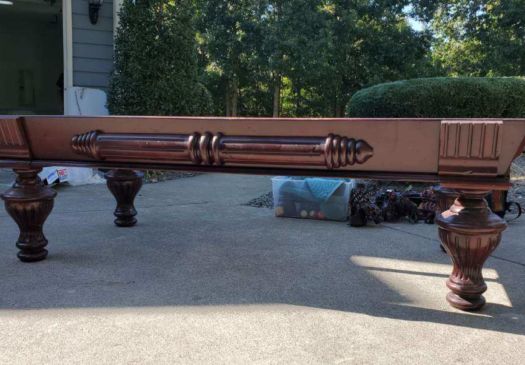 8′ PETER VITALIE NONPAREIL
Removal of the old cushions and replacing them with new live gumrubber cushions.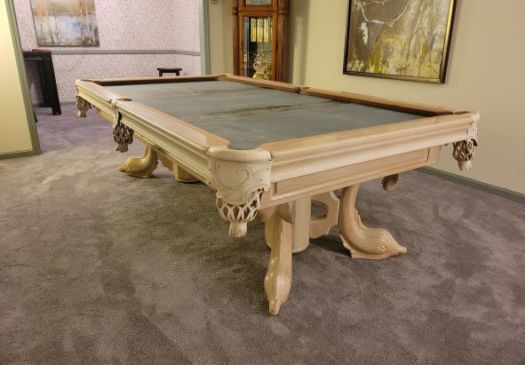 The Beach Dolphin is solid oak with a white wash finish. 1" framed slate supported by a beautifully crafted hardwood base frame.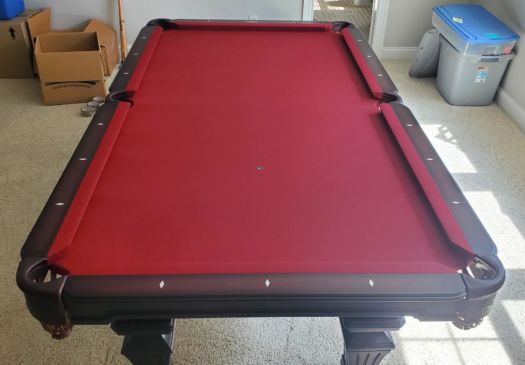 8′ OLHAUSEN HAMPTON
The 8′ Olhausen Hampton is made from tulip wood with a routered panel cabinet design and beautiful cherry finish.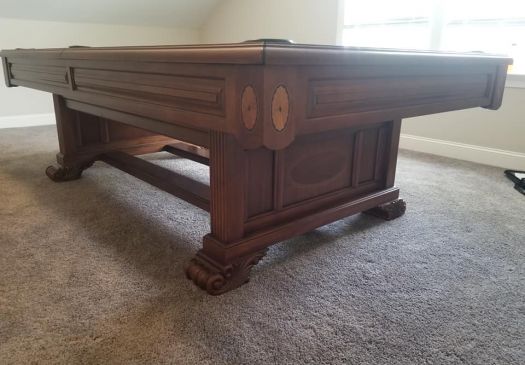 9′ BRUNSWICK WINDSOR
The exquisite Windsor sets a new standard for tables of extraordinary beauty.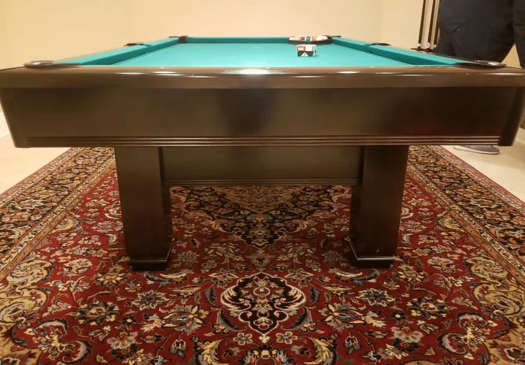 8′ BRUNSWICK HAWTHORN
The Hawthorn has established a strong name over the years, being one of the most recognized furniture style Brunswick tables.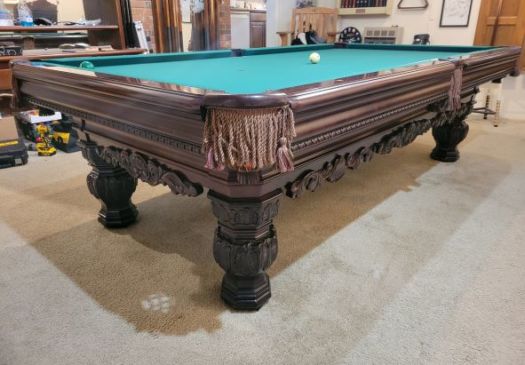 9′ BRUNSWICK CROMWELL
The 9′ Brunswick Cromwell is  beautifully designed with rich seventeenth-century European styling with a walnut finish.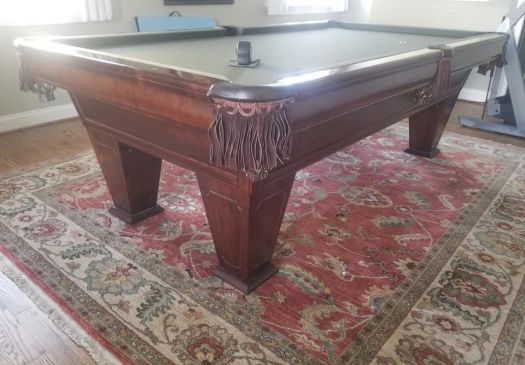 8′ BRUNSWICK VENTURA
The Ventura is a 3 piece work of art. A streamline design that will compliment any room. The legs boast a simple square design with a little added detail. This table is built with a full nut/bolt construction. Like many other Brunswick models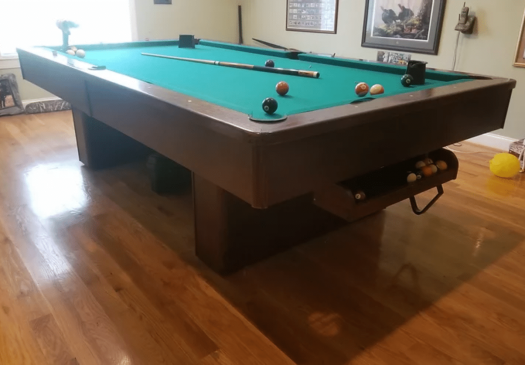 9′ OLHAUSEN MONARCH
The Monarch is one of Olhausen's best playing tables. Olhausen tables have always been manufactured here in the United States. K-66 profile Accu-Fast cushions compliment the 1" 3 piece slate construction.